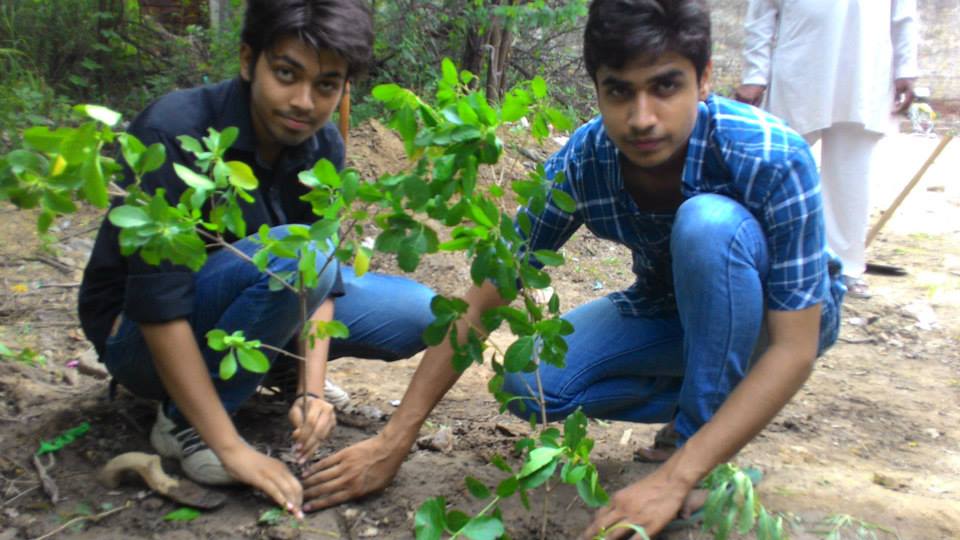 Rumit Walia has been working for environmental conservation since his childhood and he believes that environmental conservation is only possible if everyone plays their part in it, even if that means they contribute only 0.01%. It is with this belief that Rumit formed 'Tears of the Earth', a community of like-minded people that works on Environmental conservation. Some of the highlights of their work in campus and community are:
Gave free tuition to students on basics of Environmental Conservation for 100 days.
Organized Quiz and other Environmental competitions like poster making and model making competitions.
Introduced and Installed LED's in many Houses in the community.
Encouraged the use of Metal Mechanical Pencils and metal pens as much as possible instead of plastic or wood.
Prasenjit Paul from IIT - Kanpur believes that Environmentalism advocates the lawful preservation, restoration and/or improvement of the natural environment, and may be referred to as a movement to control pollution or protect plant and animal diversity with the help of Technology, innovation, science, logic and research. With this approach in mind, Prasenjit has formed the Group for Environment and Energy Engineering (G3E), the group works on engaging, IIT – K students in innovative ways to tackle problems like wastage of electicity, water and food on campus.
The group has reached out to more than 800 students on campus through presentations and various competitions like, environmental quiz, case studies and also the 'Enviro Cham', where, interested students are taken on a campus visit and made witness to wastage on campus, at times, the group is also taken to nearby villages to see their issues and try and come up with innovative solutions.
The group is now working on a plan to make the IIT – K campus completely energy efficient  by 2020!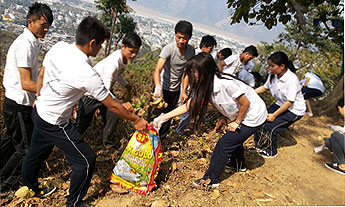 Thinley Wangmo from Bhutan feels that innovative technological solutions are the order of the day in terms of solving some of our environmental woes originating from habit. She has worked with some of her friends to come up with automatic lighting and AC controllers based on Passive infrared (PIR) sensors. They have successfully installed these in their college campus and helped save a lot of energy wastage on campus. The group has also been instrumental in promoting cleanliness on campus by conducting regular campus cleanliness drives.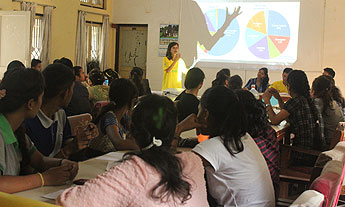 Ms. Bindu Bhandari from Nepal, who organized the COP In My City Campaign at the Agriculture and Forestry University, where students participated in a simulation phase where students were assigned to different parties of UNFCCC and negotiated to reach a global agreement for maintaining the temperature rise below 2 degree celsius by 2050 with advancement in technology for green economy and effective monitoring of green climate fund.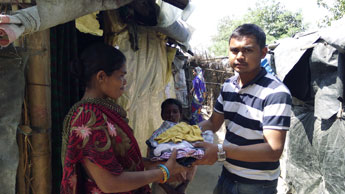 Satyansh Singh Tomar from Lovely Professional University, who focused, mainly on the social aspect of sustainability, organized donation camps for students to donate old clothes, bedding, etc. which were then distributed to the needy. Satyansh also took the initiative to organize plantation drives on campus and involved many students in it.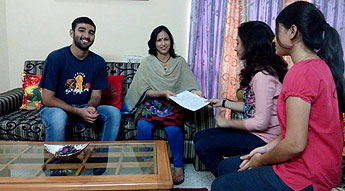 Jainil Shah and his fellow students of the Eco Club of H L College of Commerce, Ahmedabad, Gujarat, are vigorously working towards creating awareness regarding the dangers of burning waste. Waste must be properly disposed in residential colonies and societies. Burning waste can lead to many dangerous health conditions caused by inhaling or ingesting even small amounts of toxic pollutants.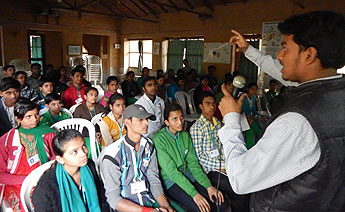 Avinash Pratap Singh, during one of his frequent travels, noticed people selling packed water bottles in trains and on railway platforms. He realized the empty plastic water bottles were thrown in the trains, on the tracks and railway platforms. When trying to fill his bottle on the platform, he was warned by a local that the water was impure, which lead to him wanting to find out the truth behind what he had heard and what many people think. After having sent samples of different kinds of water to a lab to be analyzed, the results were surprising! The tap water was full of minerals and therefore very healthy to drink, whilst many brands of bottled water contained pollutants. In order to get the public aware of this misleading situation, they organized road shows, rallies, workshop for students, workshops for teacher's and professors, flash mobs and also held an open press conference.
Gaurav Madan, a PhD Research Scholar at the Department of Atmospheric Sciences, IIT Delhi volunteers as a Communications Coordinator for the Indian Youth Climate Network, Gaurav is a volunteer trainer.  Gaurav says, 'I've done eco-restoration work in villages around Alwar in Rajasthan and Pune in Maharashtra to help support sustainable farming.  In Udaipur, Gaurav and his friends have conducted 'Invisible Theatre' programs to build awareness about cleanliness in markets, bus stops and other public places.  These theatrical performances were enacted at malls and street corners – not at venues where people normally expect to see theater.  The team has also helped work out solid waste management techniques.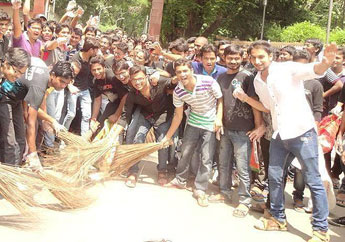 Ravi Kiran, along with batch mates in his college in Dhanbad, Jharkhand  took up many initiatives, which included organizing a 2 day workshop to raise awareness about solar light bulbs, cleanliness drives, painting competitions and also organizing a clean up event, involving 500 volunteers to clean up a public wall and reusing unwanted posters.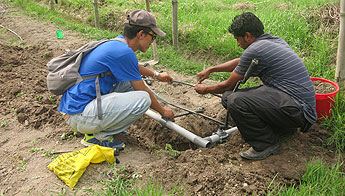 In Kathmandu, Nepal, Ang Dawa Sherpa has been working to promote a drip-irrigation watering system in the traffic islands of New-Baneshwor, Madan Bandari Road. However, Kathmandu already is an over populated city, has seen water supply as a challenge. Shifting from traditional watering techniques to innovative, water efficient dripping system is a significant way of mainstreaming climate change adaptation into Agriculture policies, especially focusing on the erratic rainfall pattern of Kathmandu along with its increasing Urban Heat Islands (UHI) since last decade. The project also demonstrates the possibility of integrating the rainwater harvesting system and drip irrigation system in order to tackle the water scarcity problem of the city.

Ang has started implementing his project on the traffic islands that are spread at a stretch of 10km along the city, covered with more than 3000 plants. Part of his future plans hold promoting the drip irrigation system among business entrepreneurs with special consideration in levying taxes while importing parts for market from another country.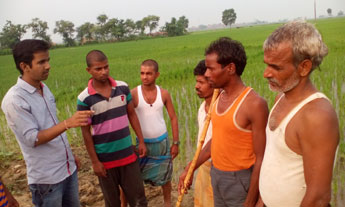 Aaditya Raj from Rohtas, Bihar is working extensively with youth and farming experts on spreading awareness among farmers on using compost fertilizers. His efforts have driven around 300 farmers to shift to compost fertilizers in his district. The farmers were a bit reluctant on this shift as compost fertilizers cause less productivity in the beginning. Aaditya and his team managed to get some experts and trained farmers to prepare high quality compost which was then tried by 30 farmers and gave an amazing result. The productivity was almost the same, only a few kilograms lesser than the chemical fertilizer production. His efforts continue and they aim to reach out to more than 700 farmers this year. He has organized various awareness campaigns in schools and colleges, reaching out to the younger generation to address this environmental issue.
He adds that this outreach has not only helped him understand the environmental issues, but also taught him, the importance of unity, being patient and building a team at large.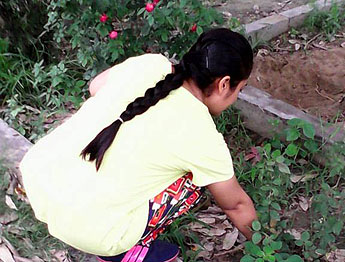 Divya Sharma from Meerut, Uttar Pradesh has reached out to the younger ones with illustrative posters, firmly believing they hold the future of our nation. She organized tree plantation campaigns in schools and neighborhood, which is strongly supported by the school management. Teaming up with local NGO's has strengthened her organizational skills.
She received tremendous support from schools and the participating students and teachers have ensured the activity remains continuous. She has been engaged in organizing various activities along with local NGO's making it better every time.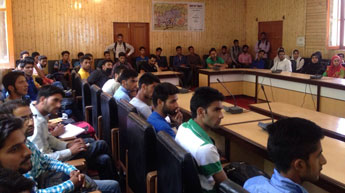 Aadil Bhat, from Srinagar, Jammu & Kashmir, has been working extensively in his state organizing more that 30 awareness camps and planting more than 5000 saplings, focusing on building awareness about the importance of preserving the flora and fauna in nature. He is a member of Wildlife Conservation Fund (WCF), a non profitable organization that is working to save the endangered Hangu (Kashimiri stag).
He organizes Cleanliness Drives and Tree Talks in the schools around his, reaching to students and spreading awareness about the importance of protecting the environment.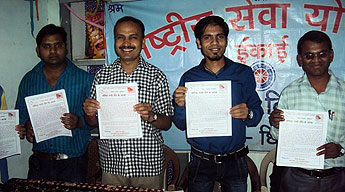 Akash Lalwani from Uttar Pradesh works to protect avian species. On World Sparrow Day, he has begun a movement to switch off mobile phones for at least an hour in a bid to reduce the radiation from mobile towers that often have a harmful effect on birds that perch themselves on these. He distributed pamphlets carrying messages to spread awareness about the harmful effects of mobile radiations. He has also organized various campaigns on World Environment Day and actively worked for an eco-friendly Ganesh festival. Along with a few volunteers, Akash worked with the State Forest Department in organizing campaigns against snake catchers. He has also conducted programs to commemorate the Global Tiger Day.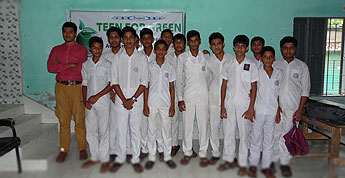 Zuhair Ahmed, from Bangladesh started the 'TEEN FOR GREEN' an environmental project implemented through school workshop and awareness raising at educational institutions. He focuses on the following in his programs:
1.    Tree plantation & Vegetation.
2.    Recycling & Craft making from trashes.
3.    Video presentation & Brainstorming Session.
4.    Group work & Presentation for finding out the environmental issues and solutions.
5.    Youth Affidavits for Environmental Conservation.
He has successfully begun a new culture of good environment practices in his community and created self-consciousness among the students. The project has also been successful in helping students recycle waste items into beautifully-crafted decorative pieces.
Himanshu Kumar, from Cochin University of Science and Technology, Co-founded "In-Waste, investing in waste management", a social enterprise which provided door to door service in the field of waste management and aimed at creating job opportunities for "In-Wasters".
He is serving as the Mission Director, Core committee member and Technical Head at U-Genius International and selected as the Paris Summit Officer for the International Paris Climate Change Summit Program [COP 21] to be held this year and the Campus Ambassador for Rio +22 Power India Program, 2015 conducted by IARC- UN. He was one of the finalists of the Young Reporters for the Environment, India, 2015.
Niraj Sapkota is an active member of the 'Zero Waste Himalaya Group of Sikkim.' Many of the programs he has volunteered for, help build awareness on ways to tackle solid waste, a problem that he says is a major issue in Sikkim. Along with others, he helped design a mobile exhibition that focuses on zero waste. This aims to make people aware of the need to take individual responsibility to reduce waste and manage what is generated. He has also worked on campaigns to reduce the use of plastic bags and has been part of the group that approached the state government to ensure that the ban on plastic bags is enforced. Niraj has also undertaken shop-to-shop surveys to understand the use of disposable plates and cups being used by shops in Gangtok.

Most of the cities in India are facing a huge solid waste management problem. For instance, Bangalore, a city with around 95 lakh people, generates roughly half a kilo of waste per person and day. The disposal of this waste is a huge, environmental problem. Along with three other university students, Niraj Kumar created a team to topic this problem under the name 'Team Sanjeevni'. From the start, they thought, it would be best to change our homes, including the campus in the National Law School of India University, Bangalore. There, they came to the conclusion that the segregation of trash and a composting facility the campus would be the most efficient way to deal with the problem in an eco-friendly matter. They have proposed color codes for dustbins on the campus, which by now has become welcomed and accepted by the other students. The promotion of bicycles and a cleaner and greener campus is also a part of their campaign.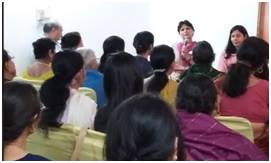 Priya Chawla from Delhi. She aims to integrate all residents to come together for composting  which will efficiently manage 60% of household waste and reduce 50% of waste going to landfill.
She is conducting informal sessions with different families in her locality to understand their direct and indirect needs with respect to waste and spread awareness about the problem of waste. Using interesting activities she makes people relate to this problem and help them come up with a common solution. She uses video clippings of success stories of  composting initiatives and helps residents prepare their own compost pits. On her guidance people have started segregating their green waste and differentiate these by tying them with a green ribbon provided by Priya herself. She then worked with the sweepers asking them to collect this waste separately and drop them near the compost pit. Her efforts have pushed 17 families to segregate their waste and procure compost, she has managed to build two compost pits in her locality till now.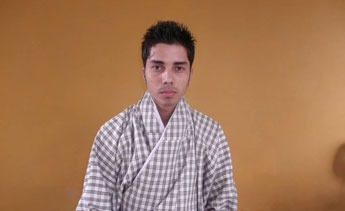 140 students from various disciplines, including Bhawani Shankar Nirola, participated in the exhibition in Bhutan to help promote eco-friendly measures in the community via illustrative and innovative models on the theme of the four 'R's viz. Reduce, Reuse, Recover and Recycle waste. The models included ideas on use of plastic waste in road paving, self-sustaining communities, recycle of paper waste, segregation of waste and composting. Bhawani will also be attending the South Asia Youth Environment Conclave in Delhi on 29-30 September with other students from the SAARC countries.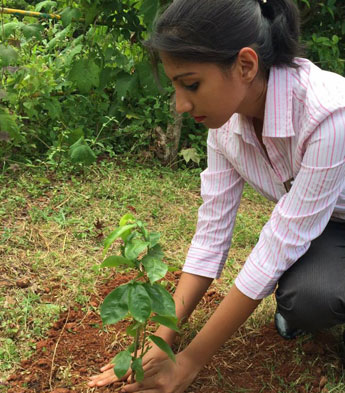 Ananya is a strong believer in the efficacy of plants and that is why all her gifts to teachers and friends are green gifts – pots of plants. To benefit the general public as well, Ananya plants Soursop (Annona muricata) in parks as well as in her institute's campus. Impressed by the medicinal properties of many plants, she has created posters that describe the plants and their benefits.